Traditionally, the EVS has been an academic symposium for global networking and the exchange of scientific ideas and information.
However, for the 35th EVS edition, the program will be broken down into two main streams – the Scientific Series and the AVERE E-Mobility Conference (AEC2022) / Nordic EV Summit (NEVS) Series, rounded off with three high level plenary sessions spread across the duration of the Symposium.
Don't miss this years EVS35 which will offer: Scientific Program – AEC2022/NEVS – Plenary Sessions – Side Events – Ride & Drive – Public Exhibition – Welcome Reception & Networking Dinner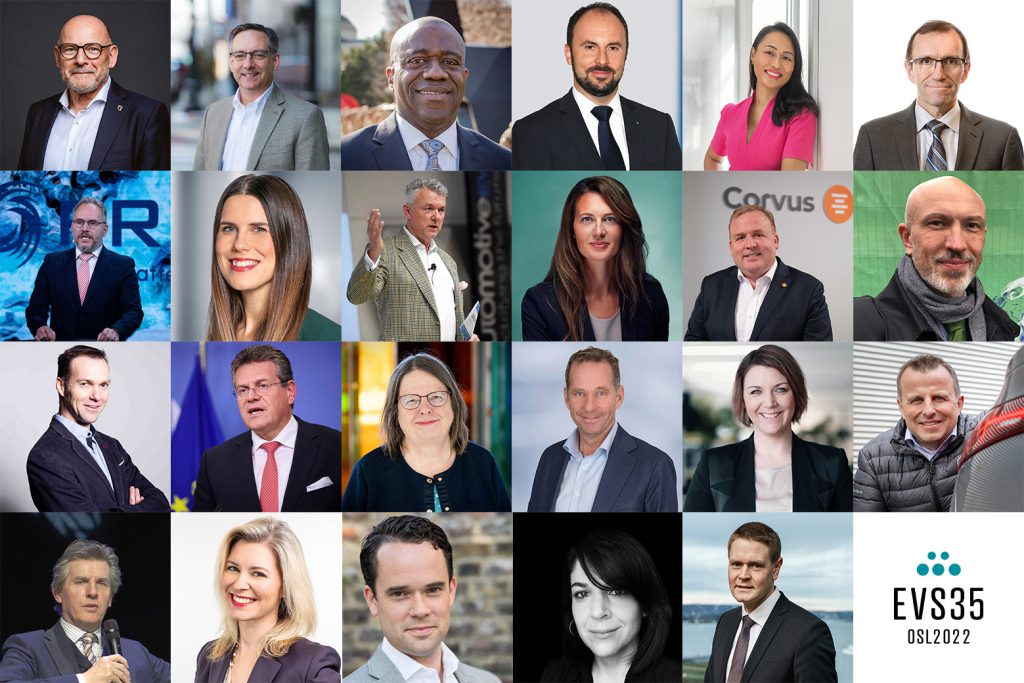 Download the app by clicking on App Store or Google Play links above.
Registered participants will get an email on how to log in.
Glad to have you on board!
After downloading the app and logging in with the details sent to you in email, this is the first screen that you'll see.
Scroll further down for more information about each module in the app ↓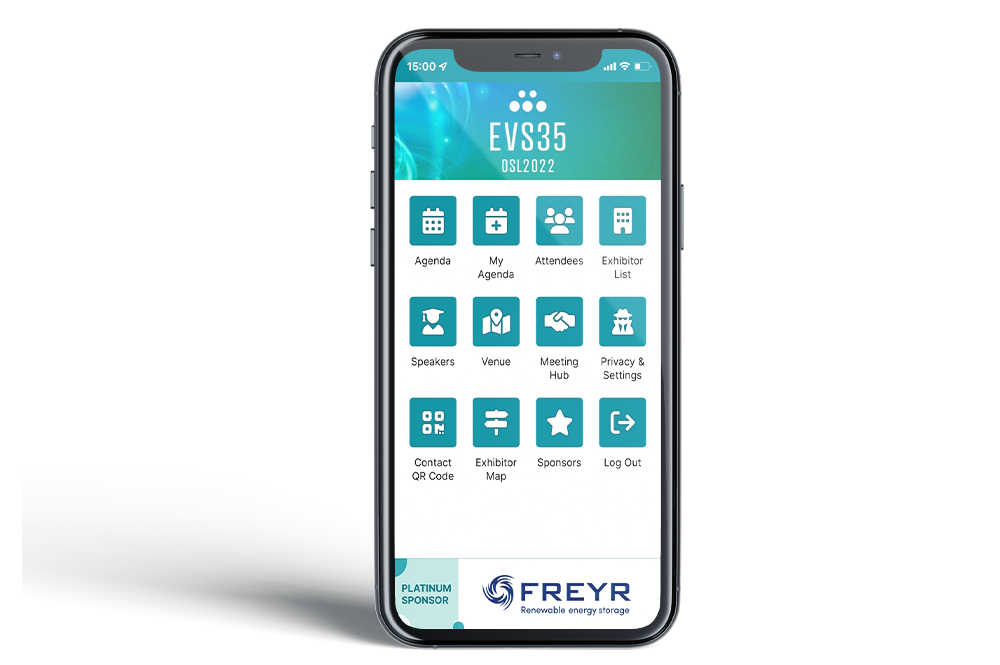 Contact QR Code
This is your ticket to get a delegate/conference badge on EVS35.
The QR-code is personal and set to your name. Do not share this code with anyone else.
This applies to delegate/conference attendees only.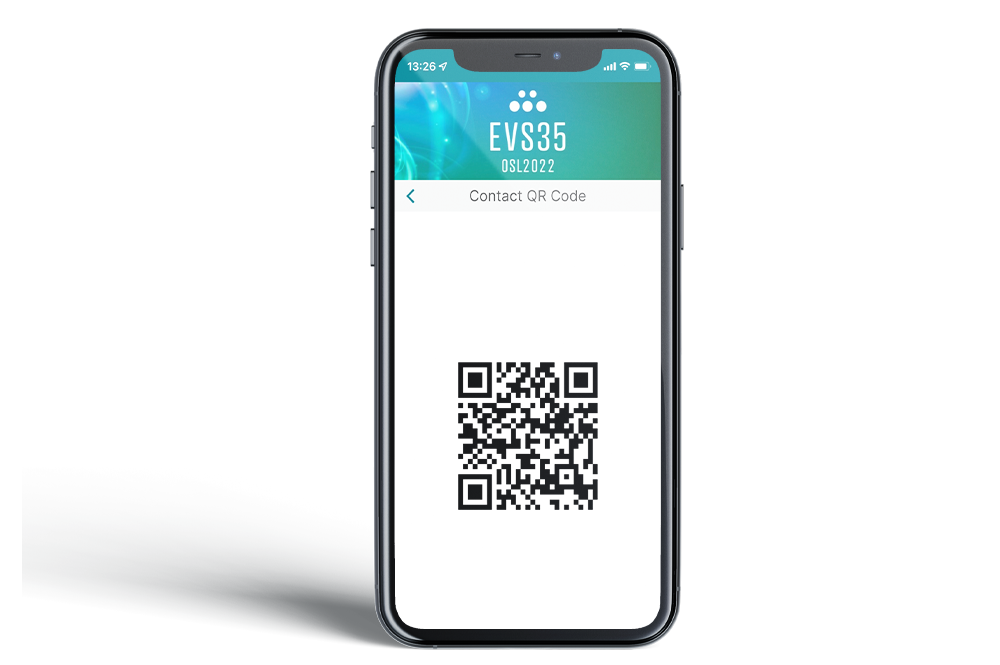 Agenda
Full agenda for the conference with information on when/where the sessions will be held.
The agenda will automatically scroll down to next session when the conference goes live.
More details about functions in agenda below ↓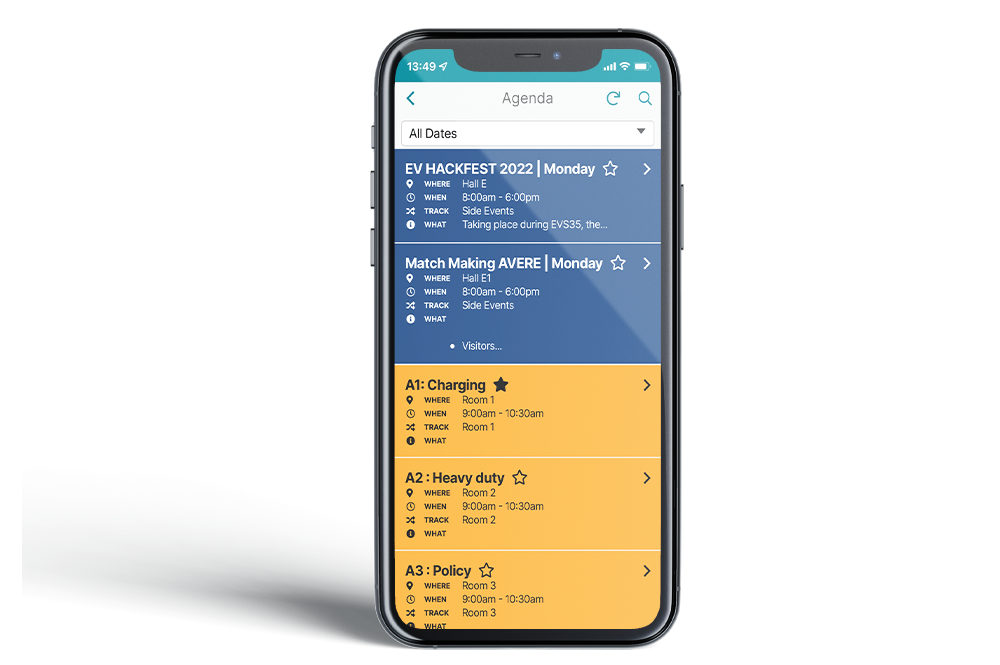 Agenda – Filter by date
You can filter the agenda by dates.
All dates or per day.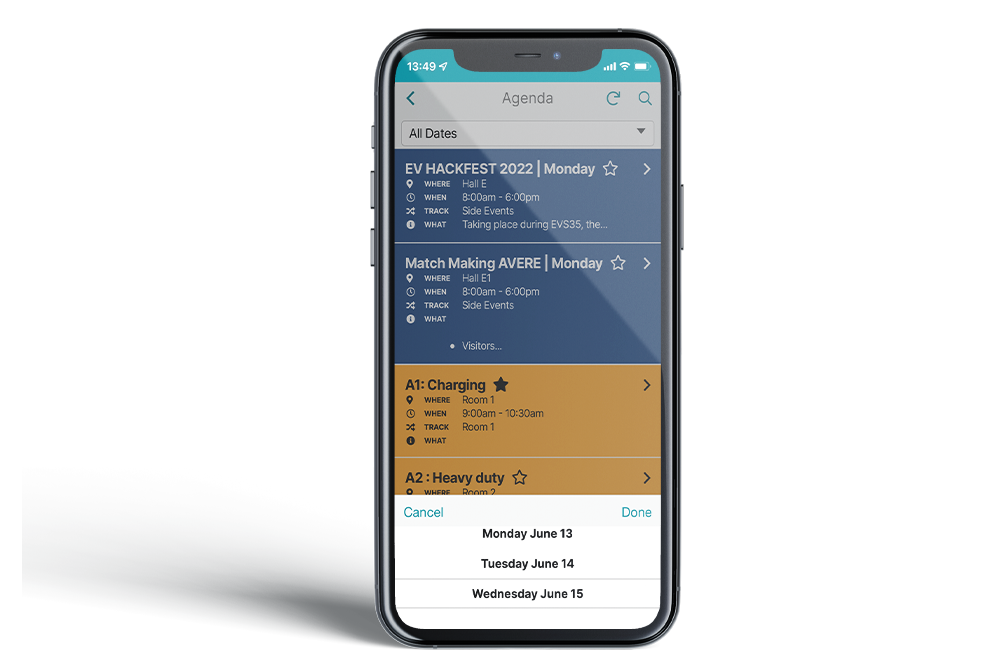 Agenda – Session
By clicking on one of the agenda sessions, you will get details about this session.
Add to Favorites is a great feature to build your own agenda. Any starred sessions will appear in My Agenda. 
A session notebook is available on each session in case you would make any notes during the session.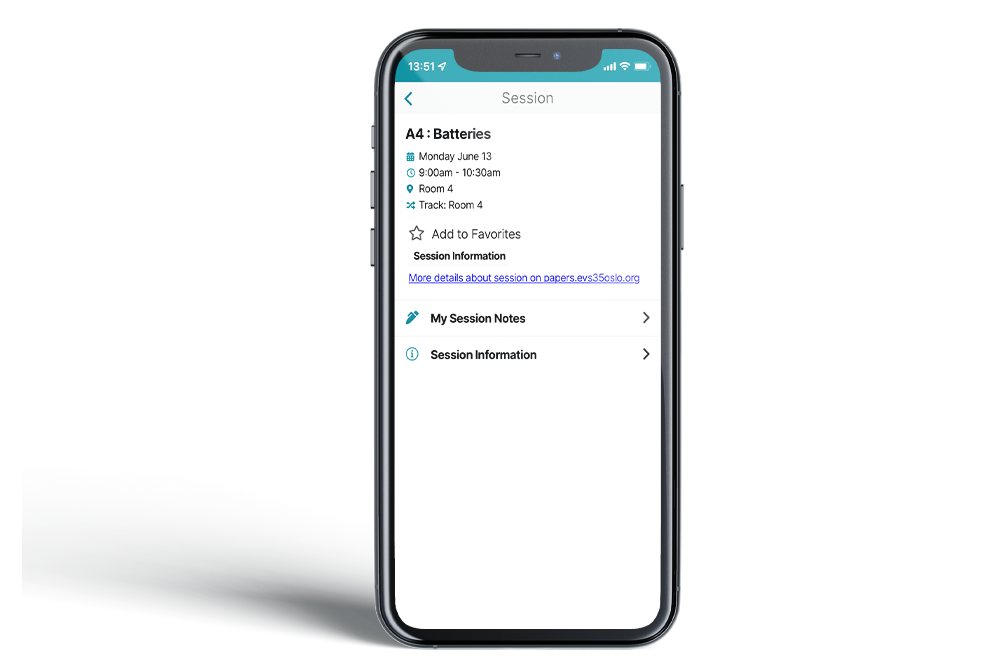 My Agenda
Build your own agenda!
Add sessions to your favorites and each session will be listed here. If you purchased a ticket to any Site Visits, this will also be listed in My Agenda.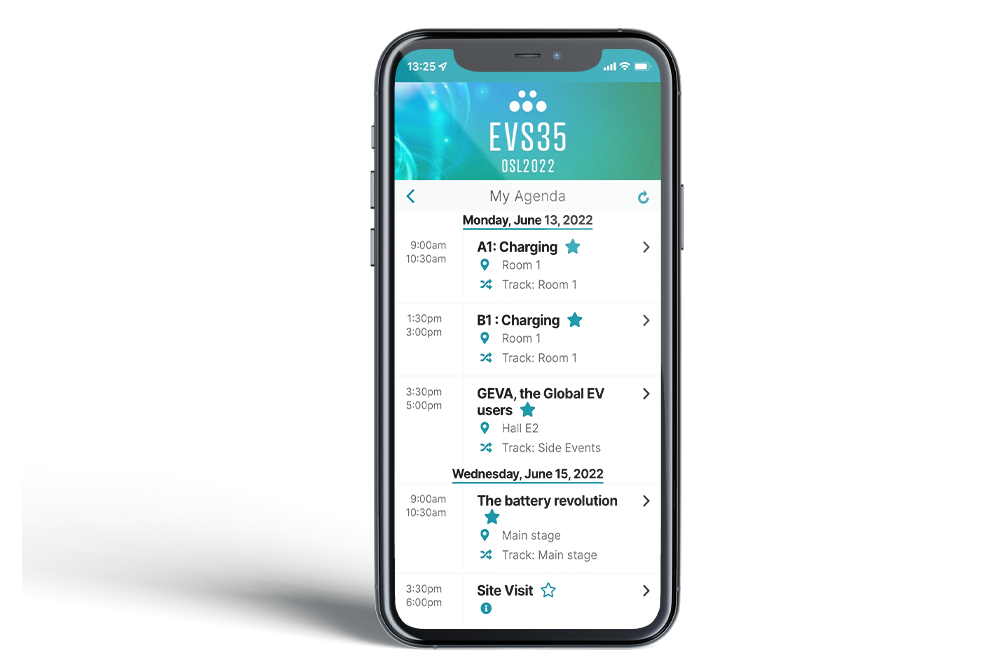 Attendees
A complete list of attendees on EVS35!
We strongly recommend having your full name listed when you are at the conference to connect with other people.
More details on how to show your full name below ↓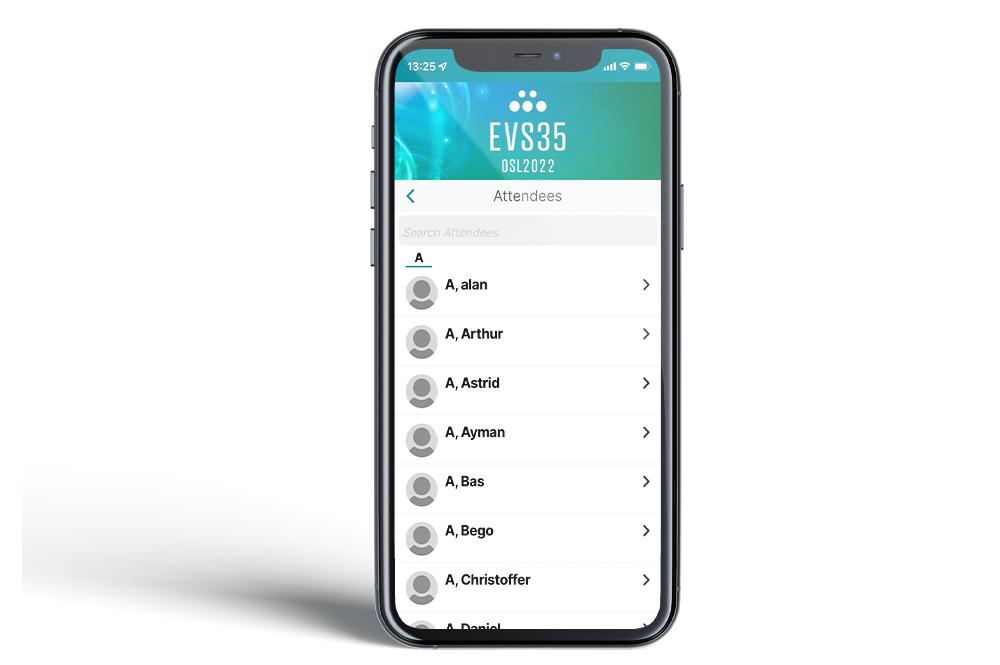 Privacy & Settings
As stated above, we strongly recommend you to show your full name so other participants can get in touch with you.
In this module you can show or hide any details about you, add social medias, add bio and toggle Do Not Disturb mode.
Some participants don't want to have their full name listed or want to be disturbed during the conference, and we respect that.
Do Not Disturb mode will prevent calls, chats, or messages from other attendees.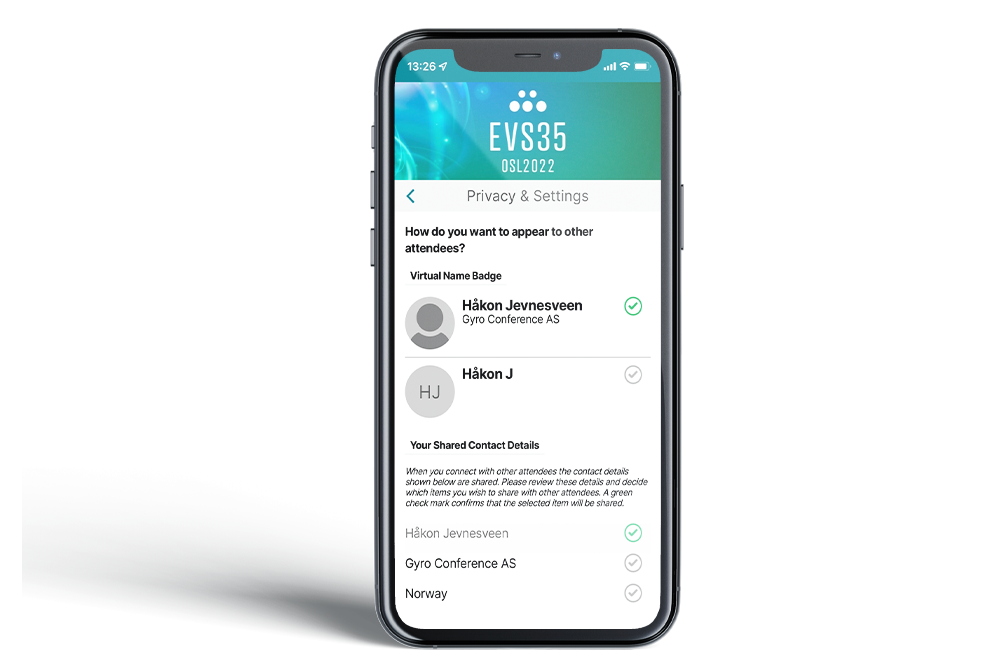 Exhibitor List
Full list of all exhibitors with filters.
Details on where to find the exhibitor is listed above the name.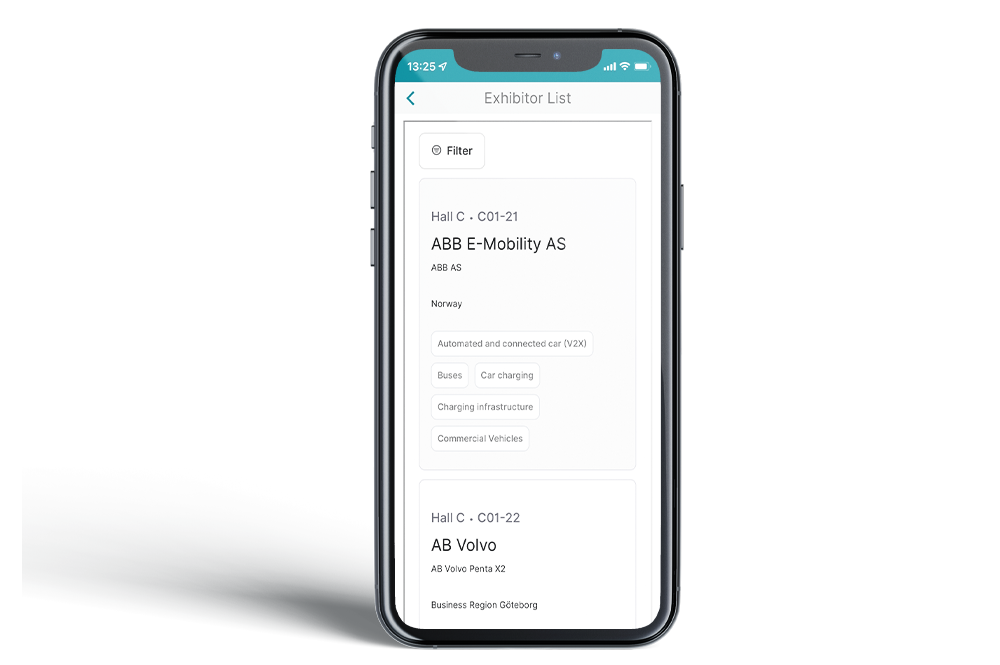 Speakers
Full list of all speakers.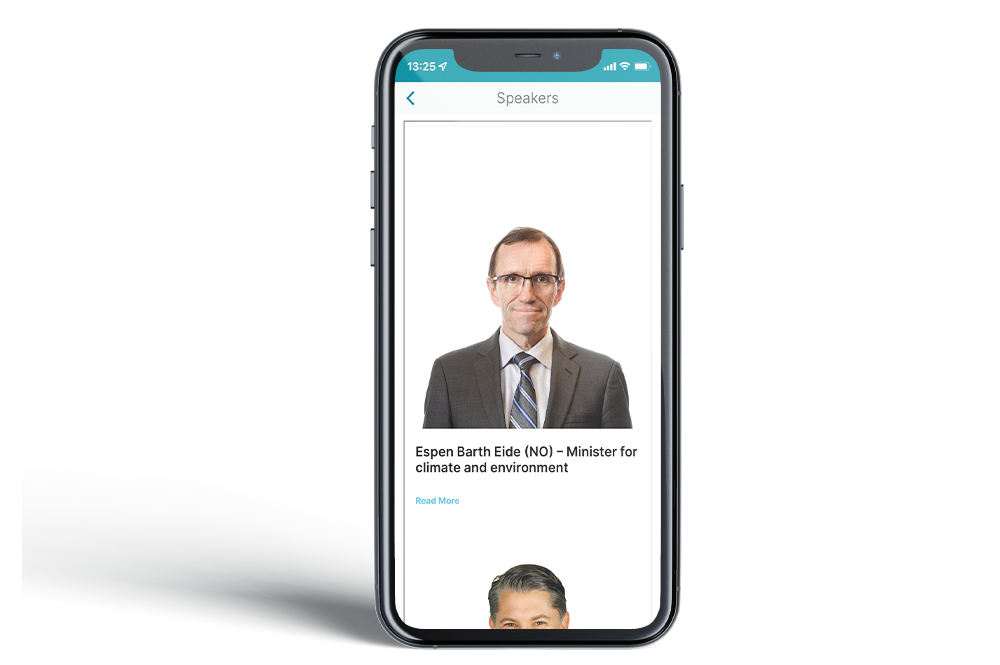 Venue
Practical information about the venue.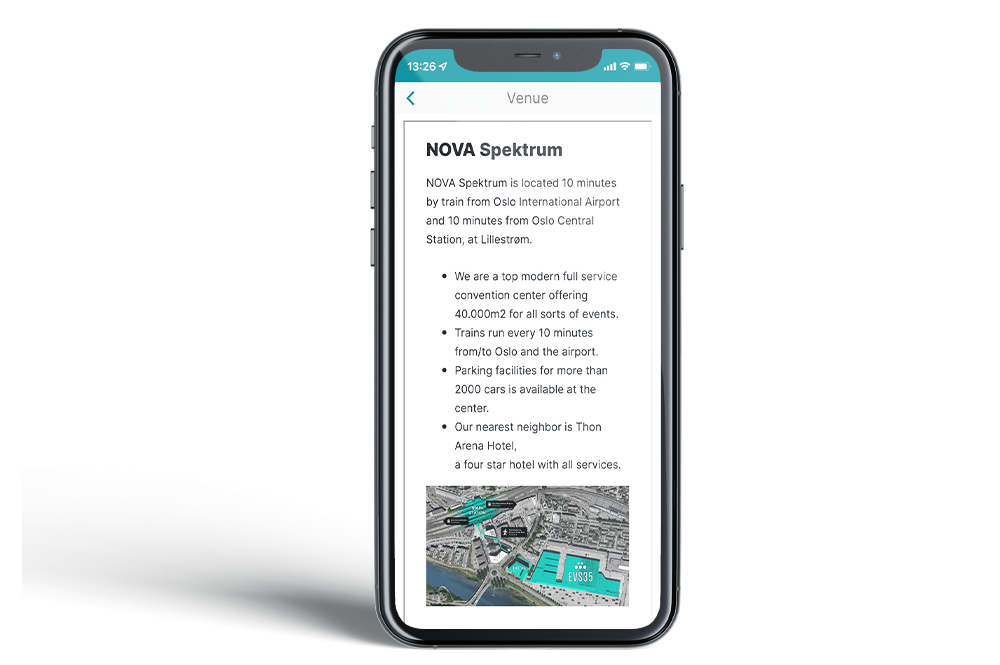 Matchmaking (Meeting Hub)
Get in touch with the attendees on EVS35.
Search for attendees & connect with them, toggle online people, and scan. 
You can read more details on each section below ↓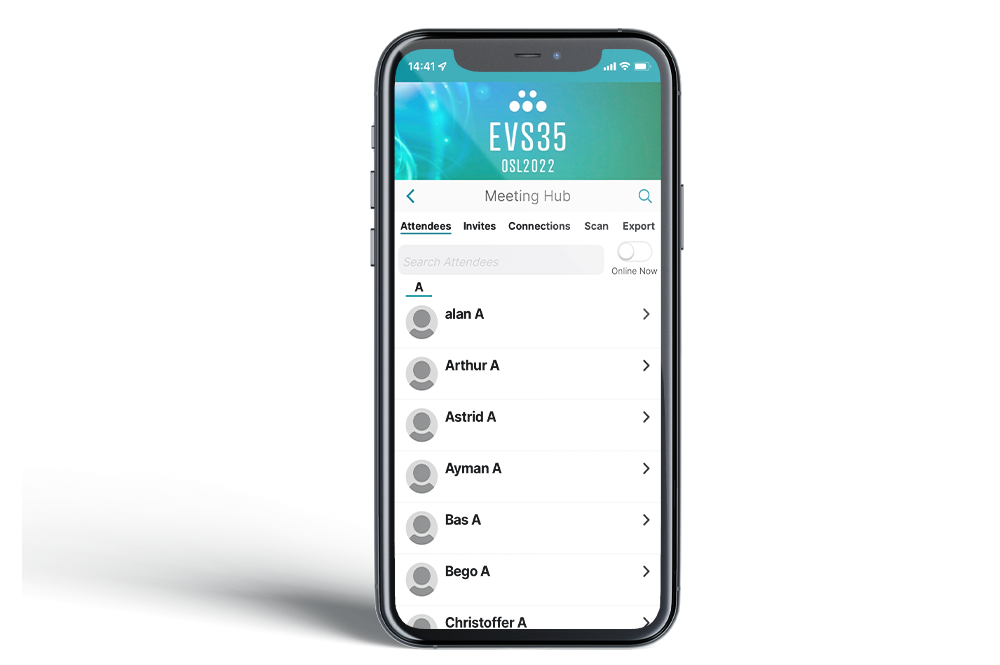 Matchmaking (Meeting Hub) – Search
You can type in partially or full names to find the person you are looking for.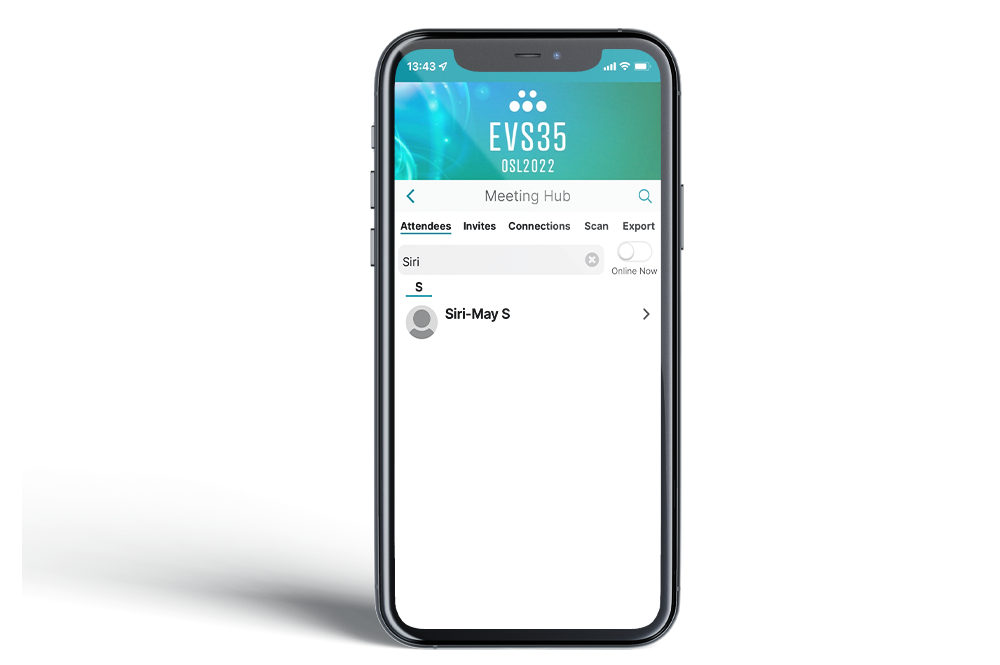 Matchmaking (Meeting Hub) – Contact
If you found the right person to connect with, you can add them by clicking on the green icon on the side of their name.
When connected, you can send message (equivalent to SMS), read more information like social medias, bio and more – depending on what information that person wanted to share. (See Privacy & Settings further up)
Start Live Chat is an instant messaging function equivalent to Messenger, WhatsApp, or similar services.
Also, you can book meetings with the person in the app.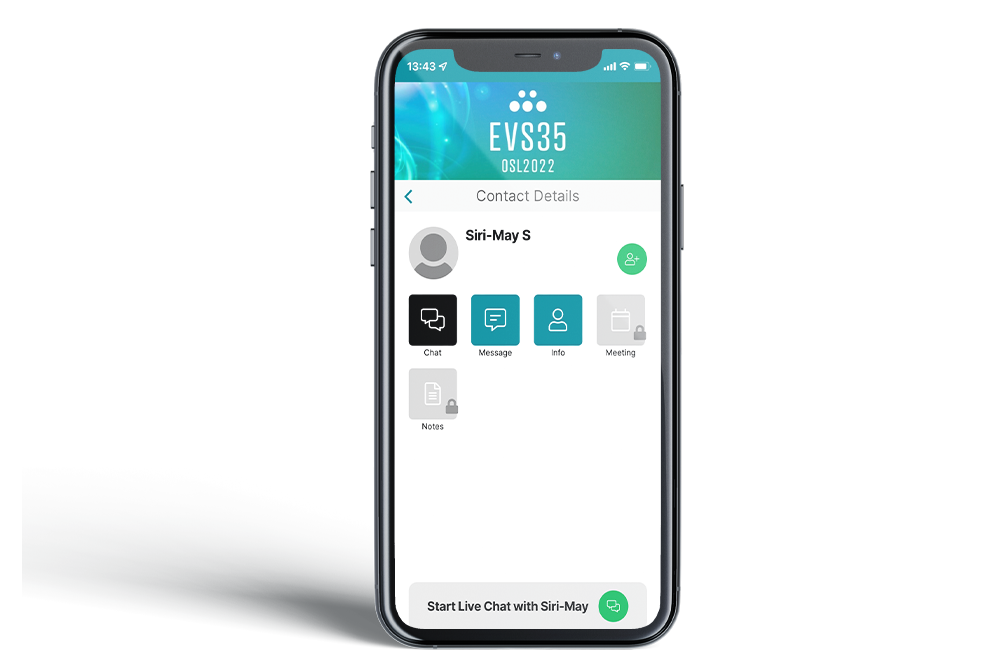 Matchmaking (Meeting Hub) – Scan & Connect
Add other attendees in a swift by using the Scan & Connect function. You have a personal QR-code which other attendees can scan.
Or you can scan others by pressing the button and scan their code.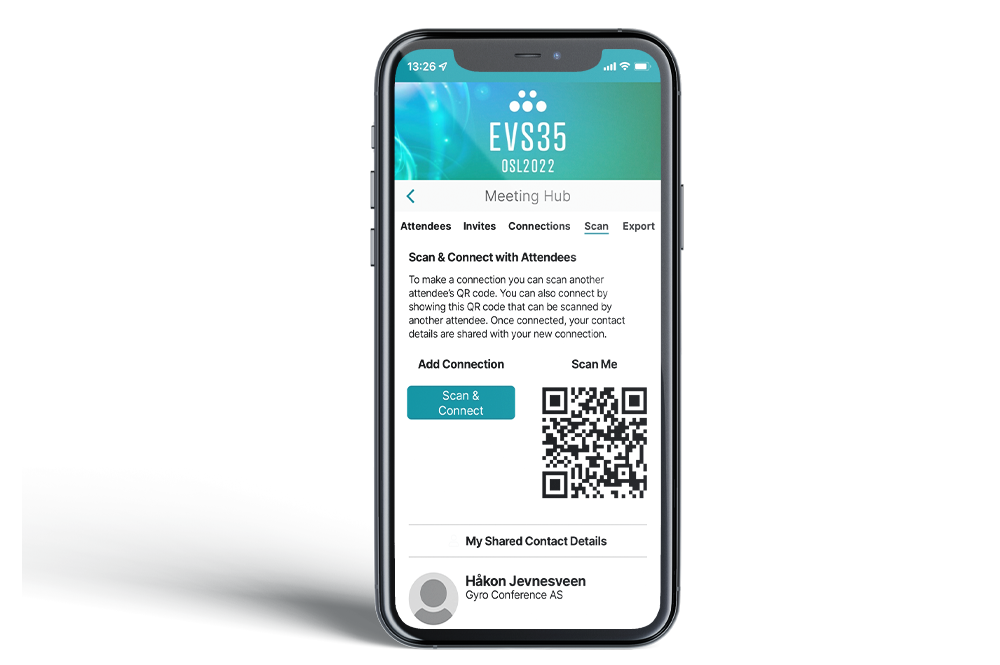 Exhibitor Map
Map over the venue with exhibitor numbers.
Open image as PDF or JPG to zoom in.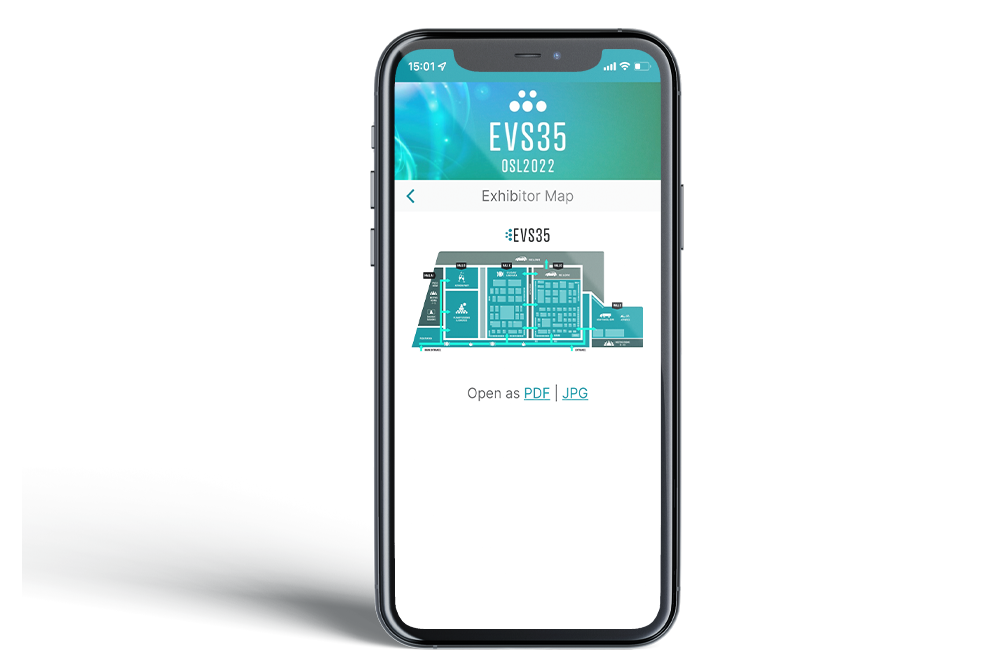 Meeting Hub – Export
You can export all the attendees you've been in touch with on the Meeting Hub.
When pressing Send, you will get an automatic email from our system with a spreadsheet of all contacts you have added.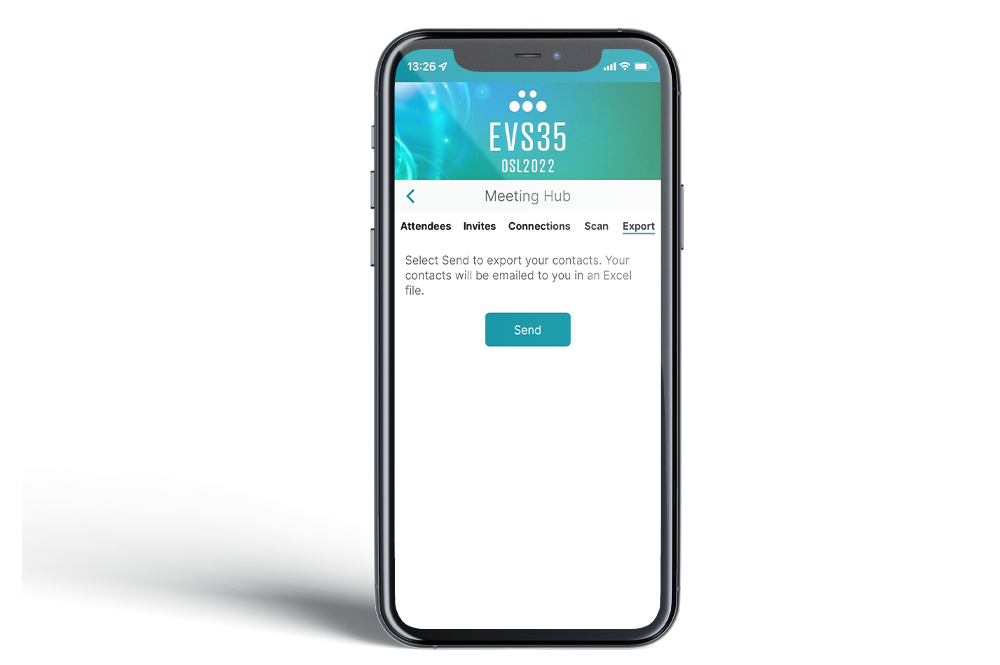 Sponsors
We appreciate our sponsors and partners – Visit them when attending EVS35!